Here's a look at some of the best leadership books to be released in May 2022. Be sure to check out the other great titles being offered this month.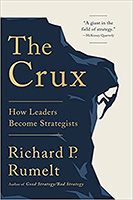 The Crux: How Leaders Become Strategists by Richard P. Rumelt
What passes for strategy in too many businesses, government agencies, and military operations is a toxic mix of wishful thinking and a jumble of incoherent policies. Richard P. Rumelt's breakthrough concept is that leaders become effective strategists when they focus on challenges rather than goals, pinpointing the crux of their pivotal challenge—the aspect that is both surmountable and promises the greatest progress—and taking decisive, coherent action to overcome it. Rumelt defines the essence of the strategist's skill with vivid storytelling, from how Elon Musk found the crux that propelled the success of SpaceX to how the American military came to grips with the weaknesses of its battle strategy. Musk's core challenge, for example, was rocket reusability. His intense focus on the soft landing of SpaceX's rockets enabled them to be used again—radically reducing the cost of putting a pound in orbit. Musk's strategy was not based on how value is created or how to position SpaceX in its industry. It was a design foraction, the mental maneuver that focuses energy on what really made a difference through understanding the crux and creating an effective response that led to breakthrough.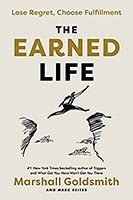 The Earned Life: Lose Regret, Choose Fulfillment by Marshall Goldsmith and Mark Reiter
"We are living an earned life when the choices, risks, and effort we make in each moment align with an overarching purpose in our lives, regardless of the eventual outcome." That's the definition of an earned life. But for many of us, that pesky final phrase is a stumbling block: "regardless of the eventual outcome." Not being attached to the outcome goes against everything we're taught about achievement and fulfillment in modern society. But now, in his most personal and powerful work to date, world-renowned leadership coach Marshall Goldsmith offers a dazzling but simple approach that accommodates both our persistent need for achievement and the inescapable "stuff happens" unfairness of life. Goldsmith implores readers to avoid the Great Western Disease of "I'll be happy when. . . ." He offers practical advice and exercises aimed at helping us shed the obstacles, especially the failures of imagination, that prevent us from creating our own fulfilling lives. With this book as their guide, readers can close the gap between what they plan to achieve and what they actually get done—and avoid the trap of existential regret, the kind that reroutes destinies and persecutes our memories. Packed with illuminating stories from Goldsmith's legendary career as a coach to some of the world's highest-achieving leaders as well as reflections on his own experiences, The Earned Life is a road map for ambitious people seeking a higher purpose.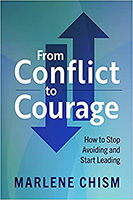 From Conflict to Courage: How to Stop Avoiding and Start Leading by Marlene Chism
Unresolved workplace conflict wastes time, increases stress, and negatively affects business outcomes. But conflict isn't the problem, mismanagement is. Leaders unintentionally mismanage conflict when they fall into patterns of what Marlene Chism calls "the Three As:" aggression, avoidance, and appeasing. "These coping mechanisms are ways human beings avoid the emotions that come with conflict, but in the end it's all avoidance," says Chism. In this book she shows how to fearlessly deal with conflict head-on by expanding your conflict capacity. Conflict capacity is a combination of three elements. The foundation is the Inner Game—the leader's self-awareness, values, discernment, and emotional integrity. The Outer Game is the skills, tools, and communication techniques built on that foundation. Finally, there's Culture—the visible and invisible structures around you that can encourage or discourage conflict.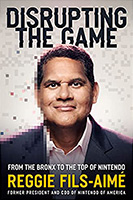 Disrupting the Game: From the Bronx to the Top of Nintendo by Reggie Fils-Aimé
Reggie Fils-Aimé, retired President and Chief Operating Officer of Nintendo of America Inc., shares leadership lessons and inspiring stories from his unlikely rise to the top. Although he's best known as Nintendo's iconic President of the Americas-immortalized for opening Nintendo's 2004 E3 presentation with, "My name is Reggie, I'm about kicking ass, I'm about taking names, and we're about making games"-Reggie Fils-Aimé's story is the ultimate gameplan for anyone looking to beat the odds and achieve success. Learn from Reggie how to leverage disruptive thinking to pinpoint the life choices that will make you truly happy, conquer negative perceptions from those who underestimate or outright dismiss you, and master the grit, perseverance, and resilience it takes to dominate in the business world and to reach your professional dreams.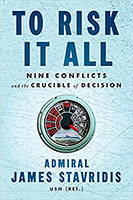 To Risk It All: Nine Conflicts and the Crucible of Decision by Admiral James Stavridis USN
At the heart of Admiral James Stavridis's training as a naval officer was the preparation to lead sailors in combat, to face the decisive moment in battle whenever it might arise. In To Risk it All, he offers up nine of the most useful and enthralling stories from the US Navy's nearly 250-year history, and draws from them a set of insights that we can all put to use when confronted with fateful choices. Conflict. Crisis. Risk. These words have a distinct meaning in a military context that we hope will never apply identically in our own lives. But at the same time, as Admiral Stavridis shows with great clarity, many lessons are universal. To Risk it All is filled with thrilling and heroic exploits, but it is anything but a shallow exercise in myth burnishing. Every leader in this book has real flaws, as all humans do, and the stories of failure, or at least the decisions that have been defined as such, are as crucial as the stories of success. In the end, when this master class is concluded, we will be better armed for hard decisions both expected and not.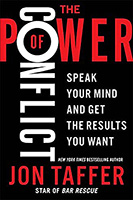 The Power of Conflict: Speak Your Mind and Get the Results You Want by Jon Taffer
Most people try their best to avoid conflict. Bar Rescue host Jon Taffer understands that. Conflict can have negative results. It's easy to think that the key to a happy workplace or marriage is to avoid conflict. In reality, that's not the case—the key is to argue smarter. Enter the Toolkit for Getting Conflict Right. Taffer's approach is focused on deliberate conflict—otherwise known as "conflict with a purpose." There are selective and strategic ways to have difficult conversations, and when doing so, to stay aware of your objectives rather than escalating tension unnecessarily. As Taffer explains, "The key is to act affirmatively, constructively, and productively." Eliminating conflict isn't always the answer; inevitably there will be times when it will arise. Engaging in conflict can be a way to clear the air, and get to the bottom of issues that, once resolved, can strengthen friendships, ease tensions at work, and address problems before they have a chance to bubble over.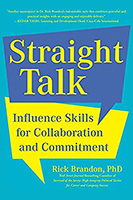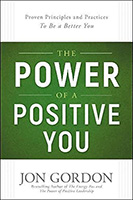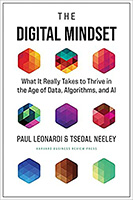 For bulk orders call 1-626-441-2024

Build your leadership library with these specials on over 28 titles. All titles are at least 40% off the list price and are available only in limited quantities.
* * *
"To add a library to a house is to give that house a soul."
— Cicero
* * *


Follow us on
Instagram
and
Twitter
for additional leadership and personal development ideas.

Posted by Michael McKinney at 07:15 AM
Permalink | Comments (0) | This post is about Books