We all desire to spend some quality time with our friends and family outdoors but no one wants their private space to be invaded. A well-landscaped outdoors is not enough to have some enjoyable outdoor moments. You may want to enjoy a get-together with your friend or may want to celebrate your kid's birthday in your garden. Having suitable privacy screens is a must for creating your place to unwind after a hectic schedule.
What are privacy screens?
Privacy screens are also commonly called security screens. These screens offer privacy to a house, office, or other places. They come in various sizes, materials, shades, and styles. The reason behind its popularity is that it offers customized solutions that can match different types of themes and landscape designs. When selecting a particular privacy screen for your place, apart from the visual appeal, you must consider the place of installation and ease of installation.
Get familiar with the council laws
The appearance of a place dramatically changes when privacy screens are added. It is mandatory to follow specific guidelines laid down by the local council before installing a privacy screen. Though every state in Australia has its own rules regarding installing privacy screens, it is advised to get in touch with the local regulatory body, physically or through their website to get specific information.
Common guidelines
The standard privacy screen installation guidelines for most Australian territories and states are below.
These screens should be of a minimum height of 1.6 meters above the finished floor level.
These screens should not allow overlooking open spaces in the other buildings in the adjacent areas.
These screens should not obstruct the ventilation points or the access points to the building.
There cannot be more than 20% visual space for a privacy screen.
For any type of privacy screen installation, we should hire a trained, experienced, and reputed screen installer. A professional installer will have complete knowledge of the rules and regulations of the local council.
Choose the right style
Privacy screens are broadly categorized into three types.
Material-based

– These screens are made with different types of materials such as wood, metal, or vinyl. They are cost-effective, fast, and simple solutions for residential or commercial privacy needs. Such screens require minimal maintenance.
Nature-based

– Plants, shrubs, and trees are used to create a private space in the outdoors. Such solutions are time-consuming and should be able to withstand extreme weather conditions. If a nature-based privacy screen must be installed, it is advisable to go for those plants or shrubs that require minimal maintenance and can grow to a limited height.
Combination of material and nature-based

– According to your budget and preferences, you can use a privacy screen for your place that is a combination of materials and plants. The privacy screens made with combination of materials and plants are easy to maintain and will add a wow factor to the appeal of your outdoors.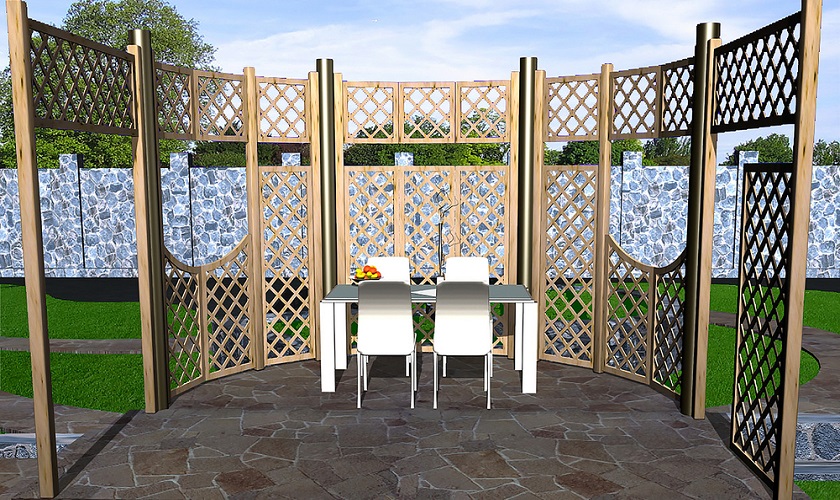 Plan well
For the installation of a privacy screen, proper planning is essential. The screen that you are choosing should complement well the design and landscape of your space. You must plan about the size, style, and type of the screen you would like to have for your outdoors, especially if you opt for plant-based screens. Homeowners can use lattice screens to have faster and easy plant-based screens.
Conclusion
Privacy screens are getting popular both in houses and offices. They are the most convenient and cost-effective way to create privacy in outdoor areas. Users get an array of options to choose from when it comes to selecting the most appropriate privacy screen.